By P.T. Bopanna *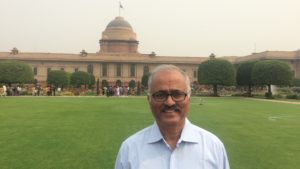 The Republic Day, the day on which the Indian Constitution came into effect on January 26, 1950, is an ideal time for introspection to discuss and debate whether the Indian Republic has protected the interests of the Kodava community, living in Kodagu (Coorg) district of Karnataka.
Kodagu which was ruled directly by the British since 1834, had a stable government machinery when India attained Independence. Kodagu also witnessed unprecedented prosperity during the reign of Coorg State between 1952 and 1956. However, matters started sliding downhill following the formation of the linguistic states and the merger of the erstwhile Coorg State with Karnataka in 1956.
After the merger with Karnataka, there has been a relentless looting of the forest wealth in Kodagu, culminating in the landslides last August. There has been a demographic change in the population as politicians have encouraged people from Kerala to settle down in Kodagu to gain electoral advantage. Further, laws have been diluted to grab Jamma lands from the Kodavas. And importantly, there is a conspiracy to take away their gun rights, especially being masterminded by certain politicians to weaken the grip of Kodavas in their homeland.
In the circumstances, there is need for Constitutional protection for the Kodavas, whose numbers have reduced drastically and their population has been estimated to be a little over a lakh.
Constitutional protection is required to safeguard the unique culture of the Kodavas and also to protect their ancestral homes, sacred groves, land tenure systems and customary laws.
There is provision under Article 29 of the Constitution to protect the minorities, especially microscopic communities like Kodavas, a vanishing tribe. Kodavas deserve the religious minority status more than Muslims, Christians, Sikhs, Parsis and Jains, who enjoy the status at present.
Though a section of Kodavas are fighting for Scheduled Tribe status, legally speaking, Kodavas are not entitled for this. It should be noted that the criterion followed for declaring a tribe as Scheduled Tribes, include indications of primitive traits, distinctive culture, geographical isolation, shyness of contact with the community at large, and backwardness. Surely, Kodavas do not come under most of the parameters required for the ST tag.
However, the government has the powers to overlook these parameters and confer the ST status. This is unlikely to happen because of the poor electoral clout of the Kodavas.
Despite these shortcomings, the Kodavas should welcome the latest move of the Karnataka government to commission an ethnographic and socioeconomic survey to see whether the Kodava community qualifies for tribal status. 
Some of the educational institutions in Kodagu have already availed the linguistic minority tag. This could come in handy in demanding the religious minority status for the Kodavas.
 * Photo of the author with the backdrop of Rashtrapathi Bhavan