By P.T. Bopanna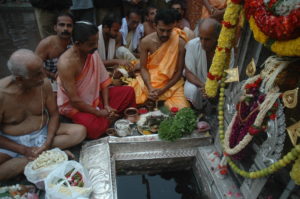 Is Theerthodbhava (gushing of water) from a small pond at the holy shrine of Talacauvery is merely a blind belief among the people of Coorg (Kodagu) in Karnataka?
Maj Gen C K Karumbaya, SM (Retd), who has written extensively on Coorg, is of the view that Theerthodbhava is a "hoax" played on the Coorgs by the priests.
Every year, at a pre-determined time in mid October, water 'gushes' out from the pond at Talacauvery, the birthplace of river Cauvery, considered the holiest place for the Coorgs (Kodavas). Talacauvery is also a pilgrimage centre for the people of South India, especially those living on the banks of Cauvery.
Elaborating on the issue, Gen Karumbaya says: "The myth about Theerthodbhava was a part of (Kavery) Purana. We Kodavas are too naive to believe this story even till today. Don't we have a scientific temper and courage to question this imposed belief? Be honest. Has anybody seen this Theerthodbava. I claim that I have closely observed it at close quarters when I was a NCC Cadet and believe, it is the biggest hoax played on us by the priests."
The General adds: "We Kodavas being Nature worshippers, venerated the river, which we originally called it Thayoor Pole ( Motherland River). This river existed from time immemorial even before Kodavas entered the land sometime in 2nd Cent AD."
It is believed that Theerthodbhava occurs around the time when the Sun enters the zodiacal sign of Libra. The devout believe that Goddess Cauvery appears at that moment and absolves the sins of all those who bathe in her holy waters.