By P.T. Bopanna
Coorg-born Thaarak Ponnappa is all set to make waves in Sandalwood. This six-footer with an M. Tech degree is very passionate about acting.
Hailing from Koothanda clan in Kodagu, Tharaak told www.www.coorgnews.in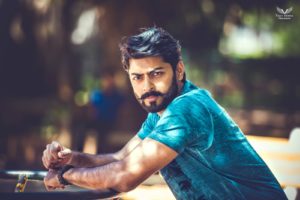 that right from his younger days he dreamt of being a successful actor.
But knowing the uncertain nature of an acting career, he completed his engineering from Acharya Institute of Technology and later pursued his M.Tech degree.
Thaarak said: "M. Tech degree has always been a back-up plan for me.  What I truly sought was a career in acting because I have always enjoyed acting since a very young age." 
Initially, he started as a model with Prasad Bidapa Associates. He free-lanced for 4 years and walked the ramp for famous designers like Tarun Tahiliani, Lokesh Ahuja, Bibi Russell, etc.
He is debuting as the protagonist in the Kannada movie "Ajaaramara" which is due for release in April. At present, he is working on Nanda Kishore's next project as a villain.
Asked whether he liked to play negative roles, the Kodava actor replied: "I would love to experiment with different roles as it would help me in showcasing my talent as an actor."
Apart from his passion for acting, he also enjoys singing. He is a fitness freak and follows a healthy diet and a strict fitness regime.
Tharaak's father works as security officer at an MNC and mother is a self-employed beautician.