By P.T. Bopanna
Close on the heels of cutting down 50,000 trees in Coorg to make way for the high-tension power transmission line to supply power to Kerala, a new project has been planned by Kerala to slice through the reserve forests in Coorg for the Thalassery-Mysore rail line.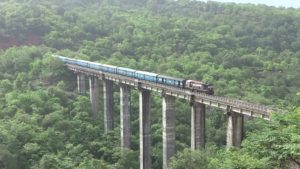 The proposed railway line through the core area of the Western Ghats could lead to a major ecological disaster and affect the generation of water in the Cauvery catchment areas. As the rainfall in the catchment area has declined in the last two years due to the government sponsored looting of the Western Ghats, the inter-state water war between the riparian states in the Cauvery basin could worsen in the coming years and accentuate the drinking water crisis in cities like Bengaluru and Mysuru.
The Kerala government has commissioned the Delhi Metro Rail Corporation Ltd (DMRC) to do a feasibility study of the Thalassery-Mysuru railway line.
Though successive governments in the past had rejected the railway line proposed 57 years ago as being unviable, the Kerala government has shown inclination to take up the project, mainly because the Kannur International Airport will start operations in the next one year.
According to a report, as per a survey estimate submitted to the Railway Board, the 247.5-km line between Thalassery and Mysuru via Wayanad will cost Rs.3,209.01 crore and the 298.75 km via Coorg Rs.3,778.71 crore.
The report notes that the DMRC study will also look into the possibility of a new alignment as the Thalassery-Mysore Rail Line Action Council has pointed out that a corridor via Iritty and Virajpet will be around 145.5 km and will go through only five km of reserve forests.
The main beneficiary of the project seems to be the Kerala timber lobby as thousands of trees have to be cut for the new railway line. The lobby is said to be influential in Coorg also as they are the main source of political funding for politicians in the district.
It may be recalled that politicians in Coorg were silent when over 50,000 trees were felled last year for the power line to Kerala. These same politicians had opposed the Kasturirangan report which sought to regulate tree felling in the Western Ghat.
Meanwhile, though the railways was all set to start work on the new Mysore-Kushalanagar-Madikeri rail line, the project is likely to be delayed as the Modi government at the Centre is gasping for breath after the demonetization exercise backfired.