By P.T. Bopanna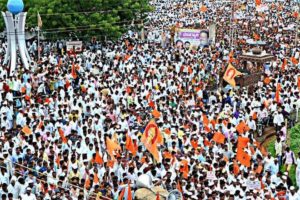 The dominant Lingayat community is up in arms demanding 'religious minority' status as they claim they are not Hindus. Ironically, it was the Lingayat kings of Kodagu who had shoved Hinduism down the throat of the Kodavas, who were otherwise ancestor and nature-worshippers.
Over two lakh Lingayats took to the streets (in picture) in Bidar in Karnataka on Wednesday demanding independent status.
Shivalinga Shivacharya, a Lingayat swamy from Maharashtra, said: "Historically, ours is an independent religion founded by Basaveshwara in the 12th century. It has never been a part of Hinduism. On the other hand, it fought Hinduism."
Addressing the huge gathering at the Nehru stadium, Lingayat swamijis asserted that the Lingayats followed Basavanna's Vachanas, and not the Vedic scriptures followed by the Hindus.
Guru Bhalki Hiremath Samsthan Swamiji, Basavalinga Pattadevuru, noted: "Lingayats have rejected the Vedic authority. The Buddhists, for instance, have rejected the Vedas. They follow the Tripitakas."
The late rationalist M.M. Kalburgi had argued that Lingayats should be part of an independent religion as the philosophy itself preaches non-Vedic practices. Jainism and Sikhism too have Vedic influence but still enjoy the status of independent religions.
It is of interest to note that the influence of Hinduism spread in Kodagu only after the advent of Lingayat rule in 1600. It was during the reign of Siribai Veerappa, that 'Deva Thakkas' were appointed from gullible Kodava families to construct and run temples to impose Hindu beliefs on the Kodavas. "This step resulted in undermining our original faith and bringing about a major distortion to it," notes Major General Codanda K. Karumbaya (Retd).
In the circumstances, Kodavas too should be given religious minority status as their religious practices are unique. The Kodavas may have come under Vedic influence like Jains and Sikhs. The Kodavas have a strong case for being considered for an independent religious status, on par with the Sikhs, Jains and Buddhists.